BICYCLE
CHATEAUX OF THE LOIRE | EXCURSIONS : Bicycle

The châteaux of the Loire Valley by bicycle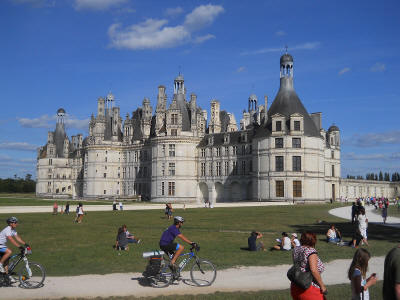 The Loire valley and its châteaux by bike : Chambord in Summer
Discover the Loire river and its magnificent castles by bicycle.
Castles route : the main châteaux de la Loire, Chambord, Chenonceau, Blois, Chaumont-sur-Loire, gardens of Villandry, Ussé, Chinon...
Useful link : http://www.loireavelo.fr
If you need more information about Loire Valley by bike, do not hesitate to ask your questions to the Tourist Information Centres and Tourist officeslocated along your route.


Suivez le guide ! Follow the guide !



Our favourite itinerary : the whole route between Tours and Villandry, via Savonnières. Where the two valleys meet together : the Loire and the Cher. The most courageous cyclists can continue to La Chapelle-aux-Naux, Langeais, Bréhémont, the château of Ussé (called the château of Sleeping Beauty), Huismes and Chinon, the town of Joan of Arc, François Rabelais and Richard the Lionheart.
Tours-Villandry : around 15 Km ; Tours-Chinon : around 55 km
Bonne route !